Hair loss is an unfortunate symptom of numerous conditions, but the most common cause for both women and men of hair loss is genetics. In the U.S., heredity actually accounts for 95 percent of all alopecia cases. In all types of alopecia areata, hair follicles stay alive, ready to grow hair back again when signaled appropriately.
Depending on what alopecia type you have, your extent of hair loss and your age, numerous hair loss treatment options are available. The primary goals of treatment are blocking the immune system attack and stimulating new hair regrowth.
Treatments are usually effective, particularly for those who have milder forms of the condition and when the ideal treatment method, such as the NeoGraft® Automated Hair Transplant System, is implemented.
Let's take a look at some of your options for hair loss treatment.
Traditional Hair Loss Treatments
These are today's available alopecia treatment options:
Medication
If an underlying disease is causing your hair loss, you'll need to have the disease treated. Your doctor may prescribe you certain drugs, like prednisone, to suppress your immune system and reduce inflammation. Propecia (finasteride) and Rogaine (topical minoxidil) are the only medications the Food and Drug Administration (FDA) approves for treating pattern baldness — hereditary-induced hair loss.
Intralesional Corticosteroid Injections
A dermatologist gives intralesional corticosteroid injections using a tiny needle to deliver multiple injections into your skin around and in the bare patches. Once a month you'll receive these injections.
Scalp Reduction
This is a surgery that reduces balding areas of your scalp. It removes small open areas and rejoins your scalp with fuller areas.
Laser Technology
Laser technology is a popular non-invasive procedure. It facilitates new, healthy hair generation and prevents further hair loss. The dermatologist applies gentle laser energy to your scalp, stimulating blood flow to your hair follicles, generating hair growth.

Hair Transplantation
Hair implants and transplants are another common type of modern hair restoration. Modern technology provides you with faster post-surgery recovery time and less downtime. Many patients report good results.
It's a long-term hair loss solution with a couple surgical techniques the surgeon uses to remove grafts. These are: Follicular Unit Transplantation (FUT) and Follicular Unit Extraction (FUE), including the Neograft procedure in Houston.
Neograft Hair Transplant
Neograft is a follicular unit harvesting and implantation system and is cleared by the FDA. It provides you with great transplant results delivering FUE technique through the power of automation. It offers many advantages as an alopecia hair loss treatment option.
Overview of the NeoGraft Procedure
The Neograft procedure involves complete individual hair follicles precisely using pneumatic controls which may then be transplanted to the appropriate scalp area immediately. NeoGraft delivers precise harvesting and placement delivering the expected results.
The technology removes each follicle individually while you stay comfortable. You end up with a natural looking head of hair you can style any way you see fit because it's your natural hair.
Here's how the procedure works in an overview step-by-step approach:
Remove donor hair: NeoGraft first removes hair from the donor section from your head in the back where the hair is programmed genetically to resist testosterone — your donor hair.

Follicular Unit Extraction: After that, the transplant surgeon extracts each graft with the same length and diameter consistency resulting in a significantly increased take rate.

Recipient site creation: The surgeon then generates a properly angled recipient site, orientation and direction based on the transplant plan they design especially for you.

Hair graft placement: Last, the surgeon carefully separates the follicular units by size and transplants the grafts into the thinning and balding areas of your scalp. They meticulously harvest each graft as it naturally occurs and implants each one individually to make sure you only receive the best results.
Benefits of the Neograft Procedure
There are many Neograft procedure benefits you may want to take into consideration. For many individuals, a healthy and full head of hair symbolizes attractiveness, youth and appeal both on a personal and professional level. A primary goal of hair restoration is that nobody should notice you had it other than those you tell — and that's what Neograft offers.
Many men and women struggle with thinning hair or male and female pattern baldness. While there are a number of good options for treatments, a lot of people don't have the standard "strip method" of hair replacement done due to slow recovery time or they're simply not good candidates for the procedure. Other individuals would rather not lose feeling in the area where they have the incision. Or they don't want to deal with the post-operative discomfort the procedure causes or the tiny linear scar on the back of their head.
The FUE technique removes each of your scalp hair follicles in their naturally occurring groups and places them in the balding areas of your scalp.
The surgeon doesn't need to use a scalpel during the procedure and leaves behind no stitches, strip scar or linear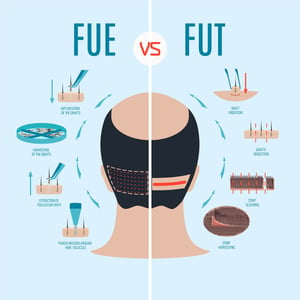 scar. The system is an innovative surgical tool making FUE harvesting way more accurate and efficient than other tools. When it comes to the hair transplant surgery field, Neograft has been called a "game-changer."
This is because it reduces discomfort, risks and downtime you usually experience with a traditional strip-harvest or linear hair transplant surgery. Imagine having only a natural head of hair with no "zipper" appearance of the linear scar. This means no more embarrassment and more self-esteem and confidence.
The benefits of the NeoGraft procedure are many and include:
Little to no discomfort or pain

No staples or stitches required

Style your hair as you see fit — short or long

No unsightly linear scar

Quicker recovery time — you may even be able to work the next day

Fewer daily activity restrictions

No intra-muscular or intravenous sedation needed — local anesthetic only

Superior and natural looking results

Discrete

Advanced technology and least invasive procedure

Affordable — you can make payments
The NeoGraft system works like a natural extension of the hands of your surgeon, which allows for more accurate and quicker hair follicle harvesting. Patients of Neograft now reach their desired natural hair goal quicker with fewer FUE procedures needed.
Through the years, hair transplantation has improved and the Neograft procedure is the best of its kind due to its precision during the process of harvesting each hair follicle group. Plus, there's no visible scarring.
Schedule a Hair Loss Consultation with Dr. Patt in Houston
When you're looking to restore your own hair naturally, Neograft performed by Dr. Bradford S. Patt, MD FASC can be your ideal solution. With the procedure, you get a healthier and fuller head of hair through a simple process, with no staples, stitches or unsightly scar.
Recognized in" Super Doctors®" "Top Docs®" and of Houston for 11 straight years, Dr. Patt is a board-certified facial plastic reconstruction surgeon by the American Board of Facial Plastic Surgeons. He is also board-certified in otolaryngology and, head and neck surgery. He is supported by a compassionate, experienced team of professionals.
Now, you can enjoy your own natural hair even after hair restoration. Schedule your alopecia hair loss consultation now with Dr. Patt at the Houston Center for Facial Plastic Surgery through our online scheduling form or by calling (281) 393-4319.