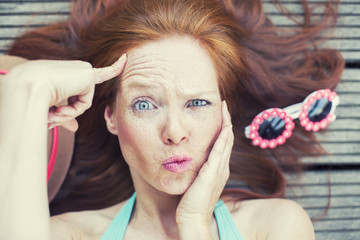 The adage "you get what you pay for" is very true when it comes to Botox®. There are many advertisements and coupons out there for quick Botox skin injections done by almost anyone. Before committing to any of these deals, ask questions and find out who and what you are dealing with. A lot of times the people that jump on these deals aren't sure what the difference is between other facial fillers and Botox. If you don't want to find yourself dealing with a Botox disaster, here are some things to keep in mind...
#1 Know What Botox Can Do for You
Botox doesn't fill in lines or wrinkles. It does, however, reduce wrinkling by simply relaxing facial muscles for 3-4 months. When the muscles are relaxed, they cannot create facial lines and frowns that can cause you to look older.
Botox is derived from a toxin that causes paralysis. When properly diluted and applied in limited doses, it safely creates a naturally youthful appearance. As wrinkles become softer and less pronounced, they create a smoother aesthetic where the injection takes place. Many times, it's combined with facial fillers to provide very beautiful natural-looking rejuvenation. But this can only take place under the care of trained cosmetic and surgical practitioners.
#2 Stay Away from Black Market Botox
Many of the deals out there could be linked to products being purchased on the black market. Also, there is a chance that the product has expired, or is mixed with other chemicals that have horrific side-effects. Beauty comes at a price, but never compromise health and safety for a great deal.
Since Botox has been available on the black market for years, there have been countless cases of procedures gone wrong. If you opt to attend a "Botox Party", don't be afraid to ask to see the vial before being injected. However, for best results, steer clear of black market risks and go see a professional like Dr. Patt of Houston Center for Facial Plastic Surgery.
#3 Consult with the Best Doctors
If you're considering Houston Botox for the first time, be sure to schedule an appointment with Dr. Patt. He is an ABFPRS board-certified facial cosmetic and reconstructive surgery specialist who offers patients high-quality Botox facial treatment services. Consultation is KEY, and he will discuss how this treatment and others will work best for keeping your skin healthy and rejuvenated. Connect with Dr. Patt today at tel:281-552-8111.