Aging is an unavoidable part of life, however skilled doctors using advanced technology and modern procedures such as blepharoplasty can reverse the appearance of fine lines, wrinkles, and sagging skin.
---
SCHEDULE A BLEPHAROPLASTY CONSULTATION APPOINTMENT AT ONE OF OUR 3 CONVENIENT LOCATIONS IN HOUSTON, TEXAS
Clear Lake
Memorial City
Southeast Houston
---
Sagging skin surrounding the upper and/or lower eyelids can limit a person's peripheral vision, cause an undesirable appearance, and impact someone's self-esteem when left untreated. This can be caused by many things like genetics, a loss in elasticity, and aging, but treatment is available through minimally invasive eyelid surgery.
What is Blepharoplasty?
Blepharoplasty, otherwise known as eyelid surgery, is a minimally invasive surgical procedure performed by a board-certified plastic surgeon specializing in facial plastics and reconstructive surgery. The goal of eyelid surgery is to improve the appearance, correct vision problems, or remove excess sagging skin around the upper or lower eyelid. Eyelid surgery, depending on the type of technique, may be performed under local or general anesthesia to reverse the signs of aging or correct a medical condition.
---
SEE BLEPHAROPLASTY BEFORE AND AFTER PHOTOS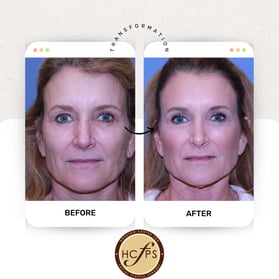 ---
What Does the Blepharoplasty Procedure Involve?
The eye is surrounded by fatty deposits that are secured within a thin, fibrous septum. As you age, the septum fibrous layer of tissues surrounding the orbital area may become more relaxed than usual. This enables the orbital fat to bulge significantly, leading to the appearance of "bags" beneath the lower eyelid or an unsightly "hood" on the upper eyelid. Surgery may be performed on the upper, lower, or both eyelids depending on the recommendations of your surgeon and the areas of concern of the patient.
Upper eyelid surgery involves making an incision in the crease of the upper eyelid, allowing your surgeon to remove excess skin and reposition bulging fatty deposits. Once the desired outcome has been achieved, your surgeon will use sutures to close the incision, dress the wound, and monitor you closely before sending you home to recover.
Lower eyelid blepharoplasty is performed using one of two techniques:
When excess skin is present, an incision is made beneath the lower eyelash line and extended laterally, allowing the surgeon to reposition fatty tissue, remove excess skin, and safely close the incision with sutures.
Without the presence of excess skin, a transconjunctival approach is used by making an incision within the lower eyelid. This approach allows the surgeon to remove and/or reposition and secure fatty deposits and close the incision with dissolving stitches that will leave no outer scar.
When sutures are used to close the incision of the upper or lower eyelid, they remain in place for 5-7 days following surgery and are removed from the office during a follow-up appointment.
What are the Reasons/Indications for Eyelid Surgery?
Blepharoplasty is a surgical intervention commonly used to correct aesthetic concerns that may have an impact on a person's self-esteem and confidence. It is often used to:
Remove sagging or loose skin surrounding the orbital area that affects the natural crease of the upper eyelid or causes visual disturbances.
Reposition and secure fatty deposits that result in the puffiness of the upper or lower eyelids.
Correct bags underneath the eye.
Reverse drooping lower eyelids.
Eliminate fine lines and wrinkles.
Though this procedure is commonly used to treat cosmetic concerns, it is also frequently used to treat various medical conditions. These conditions include:
Ptosis.

This condition directly affects the upper eyelid of one or both eyes, causing drooping skin. Ptosis may be congenital (present at birth) or develop later in life and is corrected by shortening the eyelid muscle.
Ectropion.

This condition affects the lower eyelid, causing the skin around the eyelid to droop and turn outward. It may lead to eye irritation, wind sensitivity, and watery eyes.
Entropion.

Similar to ectropion, entropion affects the lower eyelid. This condition causes the skin of the lower eyelid to turn inward, resulting in an increased risk of corneal infection and irritation.
---
Request a consultation to see if blepharoplasty is right for you.
---
How Long Do the Results of Blepharoplasty Last?
As with any surgery, it can take a few months for complete healing and results. Though you cannot stop the aging process, blepharoplasty allows for long-lasting results with just one surgery. So, if you are wondering how long does blepharoplasty last, know that it can keep you looking more youthful for many years. It is important to note that the presence of swelling and bruising may occur up to 14 days after surgery, but will dissipate with time. For some, a second surgery may be needed for optimal results, but with a well-trained plastic surgeon, you will be satisfied with the results.
Is there a Best Age to Consider Eyelid Surgery?
You may undergo eyelid surgery at any age with a medical concern. Many plastic surgeons report seeing patients aged 40 or older for cosmetic blepharoplasty. The surgeon you choose will weigh out the benefits versus the risks of surgery, request a detailed medical history to determine if you are a viable candidate, and go over all the risks with you.
Possible complications of eyelid surgery include asymmetrical eyelids, temporary or permanent blurred vision or blindness, pain, swelling, and bruising, and poor healing in patients with pre-existing conditions. Though the risk of complications is present with any surgery, using a skilled board-certified facial plastic surgeon will minimize risks.
How Much Does Blepharoplasty Cost?
The final cost of eyelid surgery will vary based on the general region in which you are receiving the surgery, what type of approach will be used, as well as surgeon and facility fees. Blepharoplasty yields long-lasting results with just one surgery. The price can vary greatly and may not be covered in full by insurance. Three main aspects affect the total cost of eyelid surgery:
Surgeon's fees

The cost of anesthesia

Facility fees
Upper eyelid surgery is commonly performed under local anesthesia, a less expensive option compared to general anesthesia. You will be under "conscious sedation" during upper blepharoplasty, which can have an average total cost estimating $3,000 or less.
Lower eyelid surgery or combination blepharoplasty is performed under general anesthesia, where you will be put to sleep during the procedure, and the cost ranges greatly from $2,000 to more than $10,000. Many patients prefer to combine multiple cosmetic procedures into one surgery to avoid paying multiple facility fees and anesthesia fees.
Pros and Cons of Blepharoplasty
Blepharoplasty is a great, minimally invasive surgical option to correct eyelid drooping, excess skin, and fatty deposit repositioning. As with any surgery, there are pros and cons to eyelid surgery that must be weighed by you and your surgeon before scheduling surgery.
Pros of eyelid surgery
Reduce bags underneath eyes

Remove lines around the edges of the eye

Eliminate hooded upper eyelid

A more youthful appearance
Cons of eyelid surgery
Bruising, bleeding, and swelling

It could take 2-3 months to see full results

Asymmetry of the eyes is possible

Temporary double vision or blindness that often corrects itself within 24 hours

Dry or itchy eyes
Treating Sagging Skin at Houston Center for Facial Plastic Surgery
While you cannot stop aging, the specialists at Houston Center for Facial Plastic Surgery have undergone countless hours of training to help you age gracefully with confidence. Dr. Patt, board-certified facial plastic and reconstructive surgeon and Otolaryngologist, alongside Dr. Taylor DeBusk, board-certified facial plastic surgeon, is known nationwide for their empathy, bedside manner, and outstanding surgical and non-surgical results.
At Houston Center for Facial Plastic Surgery, our doctors use advanced technology and the latest techniques learned through continuing education to produce beautiful, lasting results with minimal scarring. Whether you are interested in botox injections, hair restoration, rhytidectomy, rhinoplasty, or eyelid surgery, we offer many options to help you look and feel better and more confident.
Our team is known for providing excellent patient care and never compromising the safety of our patients. We will weigh out the risks vs benefits of each surgery, surgical technique, and consider any concerns, like known poor healing, before scheduling any procedure.
Call (281) 649-7170 or visit our contact us page today to schedule your consultation.